As I mentioned in my South African blog post yesterday, Mix N Blend have a new EP out today with SFR so figured it would be good to have a follow up post with some of my old favourites from the country.
Mix N Blend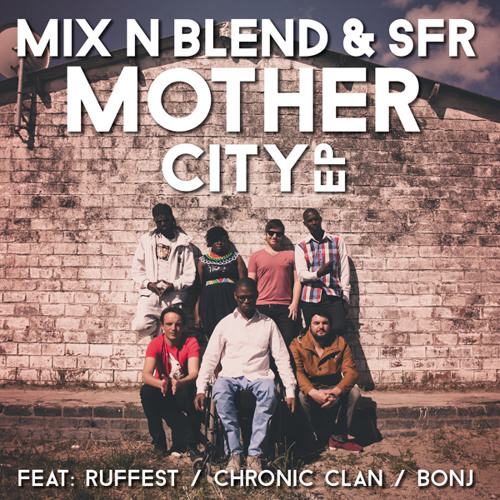 These boys have always managed to make great club tunes, from their Ragga Dubstep killer 'Tantrum' to their Swing Glitch track 'Shall We Swing' which possibly predates anything similar in the Electro Swing scene in the UK (where that sound is pretty rife), despite them remaining relatively unknown over here (I can't find the original online but you can hear it on my 'Through The Looking Glass' mix).
This EP is generally pretty different for them, mixing up UK Funky, Electro, Kwaito and Breaks (with touches of Dubstep) into very 'big room' orientated smashers.
You can listen to / download the whole 'Mother City' EP from their Soundcloud.
Gravy Crew
Although I can't quite figure out exactly what Gravy is, it's members seem to make up a few of the guys we used to post a lot of on Chrome Kids such as Sibot, liver, Dank, Narch and Richard the III, plus other guys I'm not familiar with: Card on Spokes, RVWR, Christian Tiger School, O'ltak, Slabofmisuse and Mr. Sakitumi. It appears to be a kind of strength in numbers collaboration, with the aim of opening doors towards the South African Electronic scene.
Their first release came out earlier in the year with all of the people I just mentioned. You can grab the whole release for free here.
PH Fat
One of the finest exponents of what I call Hulk hop (perhaps known as Dub Hop or Glitch hop by others), Narch, Smooth Mike, & Disco Izrael have had some seriously fun and phat tunes over the years but released their first full player in July this year. Above and below are a couple of personal favourites.
If you're feeling these two tunes then you should definitely go and pick up 'Happiness Machines' here. Sadly Disco Izrael is no longer a part of the group, he left a month after the album dropped, however he is still making dope ass tunes under the nam)e Oh! Dark Arrow (he's Arrow and the producer is called Abacus The Wolf). Here's a little taster of what they;re up to too.
Jam Jarr
Finally the pairing of producer Soundproof (producer) and Bakaman, a rapper who reminds me of a cross between early Spearhead era Michael Franti and Charli 2Na. Another staple of my Hulk-hop selections, they're still going strong and still paired up with African Dope Records which is good to see. who have alway reminded me of early Spearhead on steroids
Backaman also lends his flows to this killer tune from Canadian producer Defunk, which is out next month.
Have discovered a couple of new names whilst putting this together so maybe yet more posts are in order. Feel free to comment with any recommendations you might have also.